Z-CoiL Footwear : Overstock sale!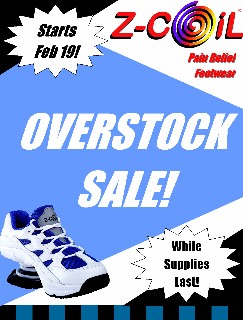 Caesar Snee, Owner EZ-Shoes, San Jose, CA: A local doctor has been a Z-CoiL Dealer for about the same amount of time as I have, but decided that he wanted to be a doctor, not run a footwear business! So, he asked me to help him get rid of his inventory since I am now fitting his patients. So, his loss is your gain!

We have to clear out over 100 pair of various styles and sizes of Z-CoiL's as quickly as possible. None of the new styles are included and we do not have all sizes in all styles, so first come - first served! It's a great time to get that second (or third or fourth) pair of Z's that you have been wanting but haven't gotten around to purchase.

Hope to see you in the store soon!